Certified Green Business
Atlantic Millwork & Cabinetry has been an environmentally conscious company since we opened our doors in 1991. Recently, we have taken major steps towards increasing our commitment to being green. In 2015, we installed solar panels on the roof of our warehouse and in the fall of 2016 we joined the Green Business Bureau (GBB).
Focus on Sustainability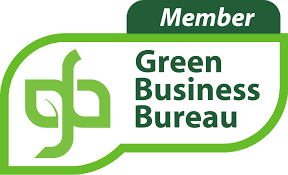 Sustainability takes into account how we might live in harmony with the natural world around us, protecting it from damage and destruction. With the aid of a grant from Rural Energy for America Program, that covered 25% of the cost, we commissioned The CNC Solar Company to install a 143 kW DC system on the southern facing upper roof of our warehouse. The 550 panels system has taken us nearly off the grid providing just about 95% of the electricity it takes to operate our offices and warehouse. Giving us a sustainable energy source and reducing our harmful effects on the environment.
Furthering our commitment to going green, we joined the Green Business Bureau to help us create a strategy to become more environmentally compliant. A few environmental practices we are already following, we recycle all paper and cardboard products, our break rooms and bathrooms use 100% recycled toilet paper and paper towel products, and we recycle and sell our used toner cartridges. For more information on other green practices, we follow visit the GBB website. http://www.gbb.org/