On-Site Storage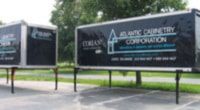 Atlantic Millwork & Cabinetry Corp. maintains several 26-foot long detachable truck bodies to provide our customers with on-site storage options. These trailers are large enough and flexible enough to serve as storage for windows, doors, columns, or other building materials until the consumer is ready to move forward with the project. 
Why Should you use our on-site storage?
For starters, they provide the capability to lock up your supplies during the installation process. Secondly, it allows us to be more flexible for delivery. With these enclosed, secure containers, we can drop them off at the construction site without worry about weather or theft.