On-Site Storage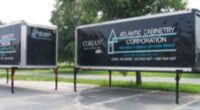 Sometimes your project runs longer than expected, or you need to temporarily store your new windows, doors, columns or other building materials until your project is ready to start. Atlantic Millwork & Cabinetry has you covered with on-site storage for your Delmarva project.
We maintain several 26-foot long detachable truck bodies to provide our customers with on-site storage options. These trailers are large enough and flexible enough to serve as storage for any number or products until you need them. We can store your items at our showroom space, or you can keep them at your worksite. 
Why should you use our on-site storage?
Theft Proof
For starters, our on-site storage truck bodies are able to be locked from the outside. This will provide you and your team of installers the capability to lock up your supplies during the installation process. Your items will be completely enclosed and secure inside the containers from the moment we drop them off at your construction site. You will never need to worry about theft. 
Weather Proof
Secondly, the storage trailers are completely enclosed. Completely enclosed trailers are resistant to even the craziest weather putting your project on hold. Whether your items wait three days through a rainy weekend or three months through a snowstorm, everything will be dry inside when you open the container again to start working again. 
Flexible Delivery
Lastly, using our storage trailers allows us to be more flexible for delivery. Rather than rushing to fill your order, which almost always leads to mistakes or missing items, we can take our time filling your storage trailer with all of your items before dropping the trailer off at your worksite. There will be fewer mistakes or missing items and fewer damaged items than if you didn't use our on-site storage trailers. 
Don't risk damaged items from water, wind or theft. Keep your items safe with our locking, enclosed storage trailers. If you have any questions about our on-site storage options, or if you would like to speak to a customer service representative about starting your project, contact us or give us a call at (302) 644-1405 today. Don't forget to request your free quote!