Five Home Improvement Trends You'll See in 2023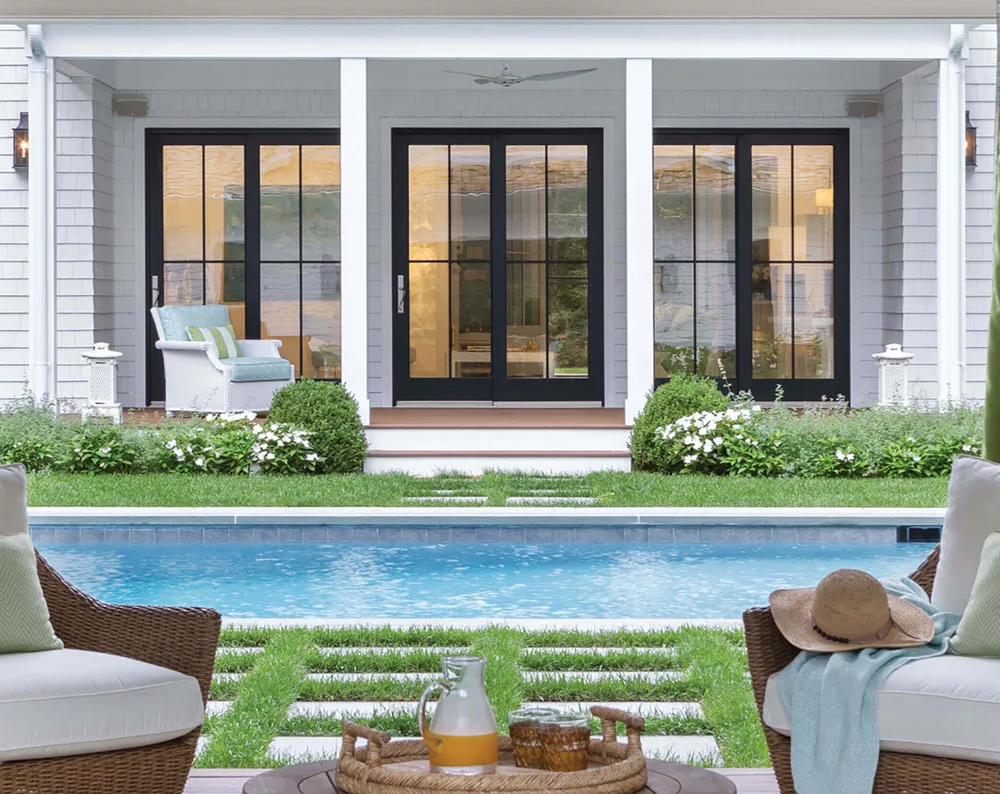 (Photo Source: MARVIN)
With prices rising everywhere you look, many homeowners will be focused more on maintenance home projects versus purely aesthetic remodels this year. However, modernizing and updating the home should still be on your yearly list of things to do. We've gathered five types of home improvement projects that are sure to be popular in 2023.
1. Exterior home revamps
Whether opting for new siding only or a completely new look, the exterior will be equally important as indoor remodeling this year. Moody greens, blues, and browns will make their way onto more home exteriors in 2023.

WOLF  |  Portrait™ High-Density Cellular™ Siding in Silhouette Chestnut
Also, expect more homes to feature the vertical siding trend, also referred to as board n' batten. This trend doesn't have to be installed on an entire house; vertical siding can be added as an accent to highlight architectural features, including entryways, gables, dormers, and build-outs. 
Board n' batten will continue to gain even more traction because it looks great paired with horizontal siding, shake siding, or manufactured stone. This style of siding is the perfect mixture of rustic charm and modern engineering. 

LP  |  LP SmartSide Lap Siding and Vertical Panel Siding in Cavern Steel with SmartSide Trim & Fascia
2. New windows, better views, and bringing the outdoors in
There's nothing quite like a home with beautiful natural light and clear, unobstructed views of the outdoors. Regarding window design trends for 2023 – bigger is best, and black is back. Larger windows and even window walls will be commonplace in the coming years.
Home designs will incorporate more large-scale windows and replace single doors with double doors to see more of the exterior from within the home. 

Marvin  |  Elevate™ Collection Casement Windows and French Doors
Black-framed windows and doors have made a huge statement on the home market in 2022 and will continue to thrive in 2023. The modern vibe might only work for some exteriors, but if you plan on updating siding and trim as well, this trend may be for you. We recommend The Marvin Signature® Ultimate windows because this collection provides some of the largest window sizes in the industry.


Marvin  |  Signature™ Ultimate Casement Window in Ebony & Designer Black
3. Expanded outdoor oasis 
More homeowners are viewing the outdoors as an extension of their homes – a trend that's here to stay. 
Creating a safe outdoor space that reflects your lifestyle is not just for larger homes and lots but also for smaller lots that need more privacy. Shade structures, such as pergolas, offer protection from the heat and make the space more liveable. Privacy fencing will also become more popular in the coming years as people build upon this trend of outdoor living.

Gray composite decking is one of the latest trends for outdoor spaces. While shades of gray remain dominant, you'll see warmer tones creeping up alongside greens this year to add more dimension. And textured pavers, like those that mimic natural stone, are also rising as homeowners become more adventurous with color and texture. 
If you want the feel of a family room outdoors, this should be one focus of your 2023 home improvement plan.


4. Affordable and functional kitchen upgrades
This year, smart investments in your kitchen and bathrooms can significantly increase home value and overall satisfaction. Replacing hardware, lighting, and countertops could be what's needed to bring your home into 2023. 
Lighting
Flexible lighting options are a big kitchen and home trend that will stick around. App and voice-controlled lighting will be as popular as traditional dimmers and motion-sensing lighting in the coming year. Adjustable sconces are also making a significant impact in kitchens. 
Countertops
Non-toxic surfaces are imperative to a healthy kitchen environment. Solid natural stone, marble, wood, metals, and porcelain are countertop options to look for in 2023. Installing porcelain countertops has been popular in Europe for some time and is finally trending here in America. Porcelain has similar advantages when compared to other popular materials like quartz and granite. A deeply veined countertop could be just what your space needs in 2023.

Hardware
Many countertop surfaces pair well with the top kitchen hardware trends of 2023. The design world favors neutral, calming designs with a pop of interest here and there. For all fixtures, black and gold finishes are gaining the most popularity, but white fixtures are beginning to gain some traction. Mixing metal colors in the kitchen is a major trend we're happy to see stay around for some time. With stainless steel appliances pairing together nicely with golden faucets and cabinet pulls.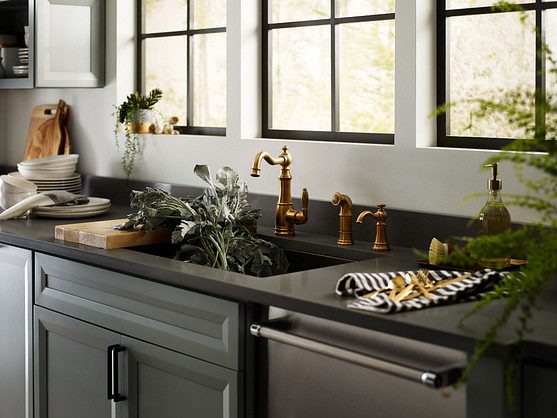 (Photo Source: MOEN)
Cabinetry
Two-toned kitchen cabinets are becoming increasingly popular. When sporting a dual-colored look this year, we recommend a darker color on the base and lighter upper cabinets. Applying this style often makes a kitchen appear larger. Homes with small kitchens should steer clear of dark cabinetry all over as it tends to make the space claustrophobic. If you're looking to make a big change in the kitchen on a strict budget, then painting your cabinets could be the best option. Use new hardware, lighting, and countertops to accentuate the new color scheme.

Amerock  |  The Allison in Revolve Collection in Champagne Bronze  |  Center-to-Center Cabinet Pulls
Colors
Colors like black, olive green, and warm spiced vanilla are part of this year's most popular trend in creating natural and uncomplicated spaces. They're sure to give any kitchen a refreshing yet warming glow. Not only will a modern interior be more enjoyable during its daily use, but it can also increase your property's resale value.
5. Mudrooms are back and more organized than ever before
Keeping your home clean and organized is a must-have for peace of mind and a sense of tranquility in the homestead. To increase storage, the mudrooms of 2023 feature wall-spanning cabinetry with designated areas for shoes, coats, umbrellas, and more. In addition, these rooms include sinks for washing up or double as the laundry room space.
Homeowners see the need to create a sort of "command center" or "drop zone" in the home. It is an excellent spot to place all of the items coming in and out of the house and still make it look organized. Cabinetry plays a crucial role in the function, organization, and aesthetics of a"drop zone." 
Refreshing neutrals keep the space grounded, calm, and modern. This space should be addressed as homeowners spend quite a bit of time here, and it's often the first area seen when entering the home.

Medallion Cabinetry  |   Silverline Collection –  Greeley in Earl Grey Classic, and Lancaster in Magnolia Classic
What will you do in 2023? If you're ready to tackle some home upgrades, contact your local building supply specialist at (302) 644-1405. Our sales and design experts will find the best products to match your vision.
If you're a home remodeling contractor or builder that would like more information on the products mentioned above, please use our convenient Contractors Form or call the showroom to speak with a specialist.