Press Release – Atlantic Millwork Logo Update
Established in 1991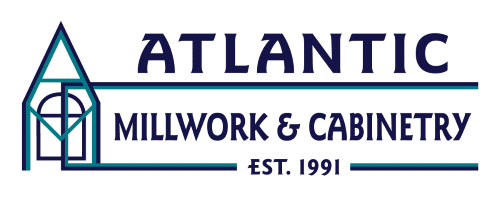 Dear AMC Customers,
We are proud to announce the launch of our new website and company logo as part of the ongoing evolution of the Atlantic Millwork & Cabinetry brand.
Last year, we started considering new ways to use web technologies to support and expand our dedication to customer service. The first step involved updating our branding. Since 1991, Atlantic Millwork & Cabinetry has been commonly known throughout the industry as an established and reputable company. However, we have many new resident and businesses in Sussex County who may not be aware of our longevity and experience. So we decided to use our inaugural year in our new logo to show our dedication to providing great service for the past 28 years. Next, we developed a new website that reflects current standards and offers a more robust platform for user experience, knowledge, and feedback.
Over the past twenty eight years, Atlantic Millwork & Cabinetry has grown and become a regional leader in the Building Supply Industry, serving the needs of contractors, architects, and homeowners alike. We have also continued to innovate with industry leading products, including Marvin, Therma Tru Doors, Timberlake Cabinetry and many more. All our vendors are accessible from our website product page at www.atlanticmillwork.com.
Atlantic Millwork & Cabinetry has always striven to provide customers with top quality products at competitive prices while maintaining a consistently high level of customer service. We redesigned our logo to reflect who we are today and to symbolize our dynamic and unswerving commitment to the industry and our customers.
As always, we appreciate your loyalty to Atlantic Millwork & Cabinetry and will continue striving to deliver the best products and support to help facilitate your vital work of providing continuous building to commercial and residential customers all over Sussex County.