Caesarstone
View Caesarstone Products Below
About Caesarstone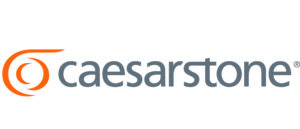 Our History
Founded in 1987, Caesarstone was the pioneer of the natural quartz surfaces market. Its dominant position has been achieved through continuous investment and innovation, extensive research and development, highly trained personnel and an advanced market infrastructure. For more than a decade, Caesarstone has set new standards in innovation and craftsmanship and continues to set the trends in the industry.
Caesarstone Ltd. has its head office in Sdot Yam, Israel and now manufactures quartz surfaces at three facilities in two continents – two locations in Israel and one plant in Richmond Hill, Georgia.
Caesarstone Ltd. has been traded on NASDAQ since 2012 (NASDAQ:CSTE).
Caesarstone is the first quartz surfacing company to receive ISO 14001 certification (a global standard specifically for environmental protection), ISO 9001 (quality management standard), NSF (public health and safety) certification and the respected Good Housekeeping Seal from Good Housekeeping Research Institute.
Caesarstone has also pioneered environmental and sustainability standards, such as recycling 97% of the water used in manufacturing and collecting dust from shipping, handling, production and processing. Caesarstone consistently seeks to protect the planet and the well-being of our customers.
A Story of Innovation
Caesarstone has consistently been at the forefront of innovation in our industry. Whether it's developing new technologies and production processes that allow us to create breakthrough designs, or working with the world's leading designers to generate new concepts, Caesarstone has a passion for innovation that is unmatched in our field. We have created different textures, different finishes and radical new designs. We simply provide the tools for you to put your unique stamp on any room and create an interior that is strikingly different than any other.