John Boos
View John Boos & Co. Products Below
About John Boos & Co.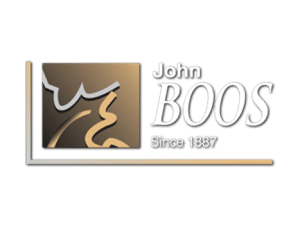 John Boos & Co. is the leading manufacturer of butcher block and stainless steel gourmet and foodservice products in the U.S.A. JB&C is renowned for their famous Boos Blocks® and Cutting Boards. JB&C products are "Made in the U.S.A" of solid and quality North American hardwoods, and are the finest in quality, workmanship and design.
Founded in 1887 in Effingham, IL, John Boos & Co. has over 100 years of history creating and providing high-quality commercial and residential products for cooking, blacksmithing, and much more. 
Atlantic Millwork and Cabinetry offers John Boos & Co. professional kitchen work surfaces including butcher block and stainless steel countertops, kitchen carts, kitchen islands, and work tables. They also offer commercial kitchen sinks, faucets, and food service storage equipment. Shop for all of your commercial and residential kitchen needs from John Boos & Co. online or in person at Atlantic Millwork & Cabinetry's showroom in Lewes, DE. 
Commitment to Sustainability
Commitment to managing environmental matters as an integral part of our business practice. It is our policy to ensure the environmental integrity and consideration of our processes and facilities at all times. We maintain a high standard of recognition in treating our environment with respect while manufacturing our product.
We are actively involved in our community through service, civic, and charitable organizations. John Boos & Co. continues to offer hardwoods as green design choices while practicing "Sustainability" in meeting today's manufacturing needs without compromising the ability of future generations to meet their needs. We will promote participation and communicate our commitment to responsible environmental management by promoting environmental responsibility among our employees.