Mouser
View Mouser Cabinetry Products Below
About Mouser Cabinetry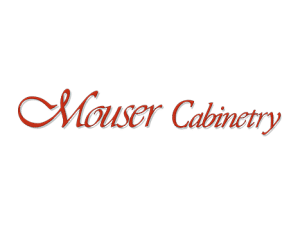 Mouser Cabinetry, located in central Kentucky, has provided the highest quality custom cabinetry for more than 50 years. Inspired by treasures of the past, Mouser Custom Cabinetry creates kitchens, baths and other room cabinetry with the distinction of heirloom furnishings. Whether you prefer a Traditional or Contemporary style, Mouser Custom Cabinetry's StoneHearth Inset series line of cabinetry may be combined with one of our Keepsake Finishes and your choice of optional physical distressing packages.
With the custom finishing techniques of physical distressing, glacier finishing, spattering, corner wear and rub through, your custom cabinetry acquires the look of a precious heirloom handed down from generation to generation.
Dedication to Sustainability
A Commitment to Excellence…A Dedication To Our Future!
Mouser Cabinetry, LLC has earned the environmental stewardship certification by the Kitchen Cabinet Manufacturers Association. As an ongoing commitment on behalf of the cabinet manufacturer, this nationally recognized program was established to encourage the responsible management of environmental and community resources.
Stewardship certification requires the annual review of manufacturing facilities in order to earn qualifying points in five categories. These five categories include: Air Quality, Product Resource Management, Process Resource Management, Environmental Stewardship, and Community Relations.
Qualifying points are earned by utilizing environmentally responsible materials and coatings. Manufacturers are required to go to the suppliers of wood and recycled wood fibers to ensure accountability to industry standards, to the consumer, and to the environment. Points are also earned by incorporating superior standards of resource conservation and waste management; complying with government regulations and contributing to the local community.
Standards set forth by the KCMA Stewardship Program require the appropriate documentation on manufacturing practices, as well as company policies and practices that relate to the manufacturer's dedication of environmental stewardship practices.