Building Coastal Homes for Durability and Beauty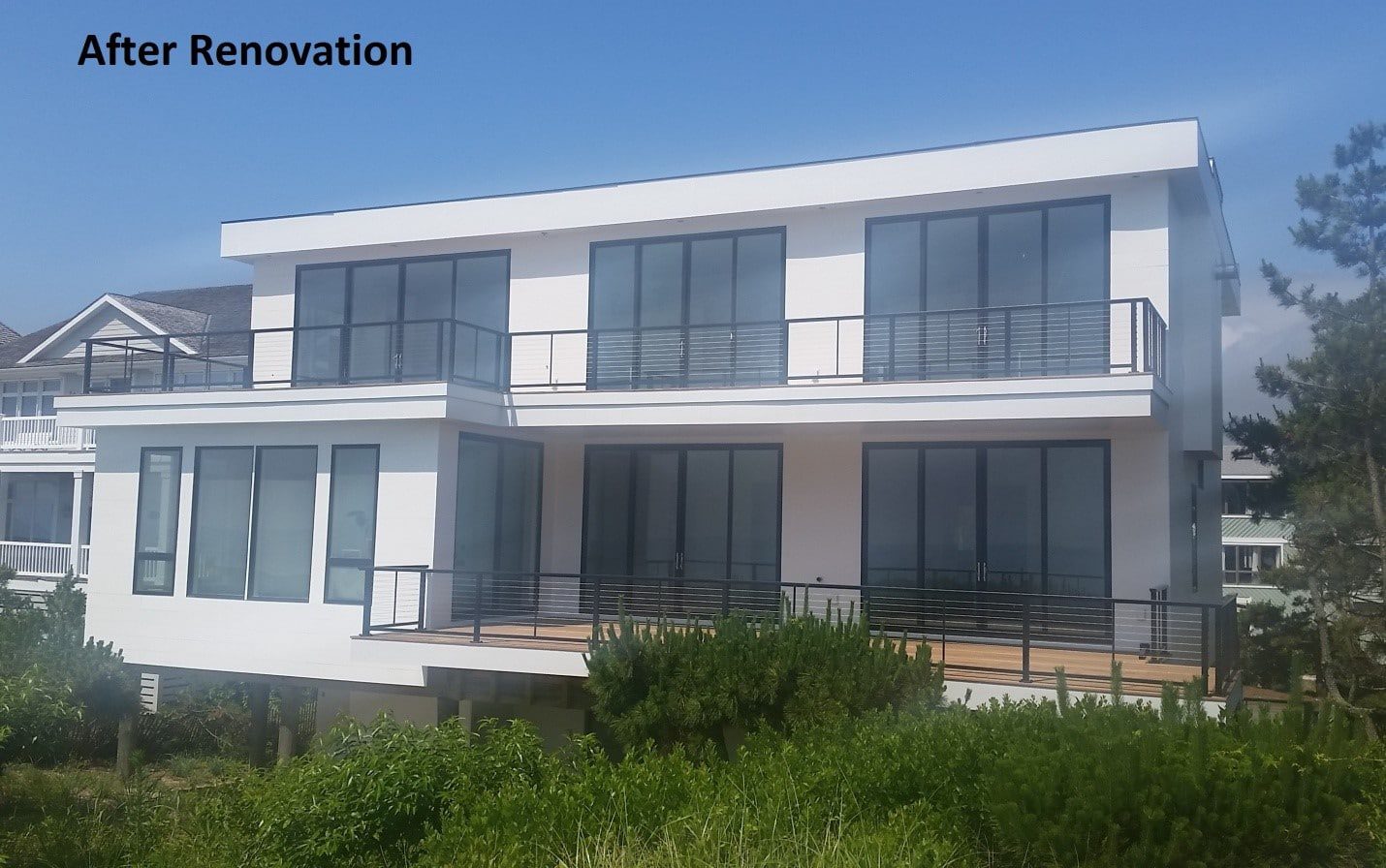 This beautiful custom coastal home built on the Assawoman Bay in Ocean City Maryland was constructed by Beachwood Incorporated with building supplies from Atlantic Millwork & Cabinetry. Beachwood is dedicated to using expert craftsmen and quality products. They construct superior homes — homes which meet their customers' needs and budgets; homes built on-time and supported by outstanding service; and homes which express pride. Atlantic Millwork & Cabinetry has been supplying building materials to Beachwood Incorporated for nearly 25 years. During this time our two companies have mastered the art of building coastal homes.
What We Accomplished
Located on the Assawoman Bay, this home provides amazing views of the water and sunset. For this reason, it was essential to the homeowner for the house to be built with large expanses of windows and doors. The goal of these large openings was to capture the beautiful natural scenery. In order to meet the needs of the homeowner, Beachwood Incorporated decided to install Marvin contemporary windows and doors, and a six foot wide by ten foot tall Trustile Double Door with EmTek Hardware. This enormous entryway gives guests an awe-inspiring feeling upon entering. The size of the door is also meant to prepare guests for the captivating views they will see once they walk inside.
Upon entering the home the floor to ceiling windows and sliding doors draw your attention to the mesmerizing views of the bay. Marvin Contemporary studio windows and doors, big glass, narrow frames, clean lines, and modern hardware combine to create open, light-filled spaces that seamlessly connect the great outdoors with the great indoors. Marvin aluminum clad, and wood windows are the perfect way to transform your cutting-edge vision into a modern masterpiece that maximizes light and minimizes clutter.
One concern for coastal homes is their reputation to have to withstand severe weather. Being on the water provides fantastic views but also magnifies the elements such as severe temperatures, sun, salt, and windy day in and day out, wearing down your home's exterior faster. Coastal residents no longer have to sacrifice beauty for performance with Marvin windows and doors. These products meet Ocean City's, and many other cities', building codes for design pressures and coastal living.
Entranced by the view outside, you make your way on to the deck outside; there an unsuppressed view of the area brings you closer to nature. Feny Cable rail was installed around the decking because the product is easy to install and looks amazing without sacrificing durability. The stainless steel cable railing is perfect for those seeking a durable product that does not obstruct views and demands low upkeep.
This home in Ocean City is a wonderful display of what modern building products and contemporary style can provide. It is important to note Atlantic Millwork & Cabinetry can provide building supplies for all kinds of jobs, to customers both large and small, covering the Delmarva Peninsula and beyond. If you are interested in learning more about our products please come into our showroom in Lewes across from Nassau Valley Vineyards.
Tags: Assawoman Bay, construction, EmTek Hardware, Feny Cable rail, Marvin, Maryland, new home, Ocean City home, Trustile Double Door, weather proof