Complete Kitchen Remodel Guide

Make a Plan
First, read these 5 things to consider before remodeling a kitchen. Ask yourself:
How well does your kitchen function now?
How do you use your kitchen?
How much storage do you need?
What kitchen style works for you?
What is your budget?
After you've reviewed that list, you're ready to move into the more difficult stuff.
Create a Budget
The last question on our list 'What is your budget?' is a little harder to answer than the others.
How much can you afford to spend? If you are exploring a small remodel with a smaller budget, then you should ensure you have enough in your savings for a hiccup or two.
If a larger remodel, ensure you have enough money to cover the entire project. Maybe you should look into a small home-improvement loan from the bank or opening a credit line with the local Home Improvement store.
Creating your budget is often a daunting task, but it can drive the rest of your project. Knowing how much you can afford to spend will help you narrow your project to an obtainable finished product.
Do Your Research
You're going to need to do some research to know how much you need to budget for this kind of large project. Look into not just the price of products, but into warranties, return policies, and reviews.
You should also look at how durable the products are. One appliance may be slightly cheaper, but if it is less durable, you may end up spending more money down the road to repair or replace it.
Shop around
Go to local showrooms and hardware stores to look at your options. Set up appointments to speak with sales consultants about your home and needs. You may find that speaking with a professional will help you develop a better grasp on your project.
If you don't have the time or means to go from store to store you can always shop online. Online product pages like are a convenient and detailed resource when shopping around. Check out Atlantic Millwork and Cabinetry's E-Showroom to get started.

Cabinets
Cabinets are the center-point of your new kitchen. There are many different styles, colors, and options for your kitchen cabinets. It's important to have done your research and shop around to know what your taste is.
Consider your space when picking cabinets. Dark cabinets will make a small space feel smaller. While too much white in your space may make your kitchen feel sterile. Some color contrast can be appealing, but make sure your cabinets, flooring, backsplash, and countertops will complement each other.
Choosing Cabinets for your Space
Think about your space.
How many cabinets will you need?
Do you plan to keep the same floorplan?
Do you need a new floorplan?
Do you need both upper and lower cabinets?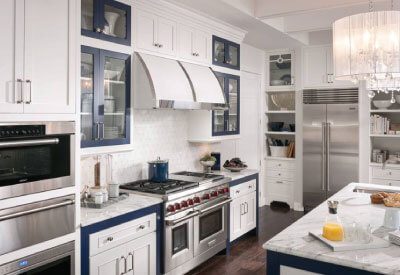 All of these questions will help you when picking out new cabinets for your kitchen. If you shopped around, you might have an idea about the kind of style you are looking for. Consider your options such as:
Quaker style vs. Modern
Wood vs Veneer
Glass doors or solid panels
Color vs stain
Finished vs unfinished
Removing old Cabinets
If you are replacing your cabinets with new ones, you'll need to remove the old cabinets. This is a big project and will create a lot of mess.
Start with wearing the appropriate safety gear. You may want to rent a roll-off dumpster for the project. Factor that cost into your overall budget.
Cabinets are generally screwed into the wall, the floor, the countertop, and to each other. You'll need to locate all the screws and remove them before attempting to remove the cabinet. This will prevent damage to your floors and walls. You may be able to preserve the cabinets enough to donate them as well.
If this seems like a daunting task, you may want to consider hiring someone to remove the cabinets for you. Atlantic Millwork & Cabinetry can recommend an experienced contractor to assist with removing old cabinets.
Installing new Cabinets
If you decided to go with all new cabinets, you're in for a bit more of a job. Consider hiring a contractor to assist you. Atlantic Millwork & Cabinetry can recommend some excellent contractors to help with removing and installing cabinets in your kitchen or bathroom.
Choosing cabinet hardware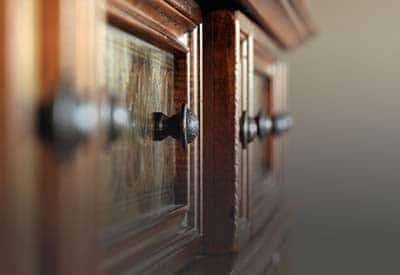 After installing new cabinets, you may be in the market for new hardware. When picking new hardware it's important to consider the colors or your kitchen, your whole home, and the style of your cabinets.
Traditional cabinets may not look as appealing with modern hardware and vice versa. Also, keep in mind that a kitchen with chrome finishes will clash with brass hardware on the cabinets.
Likewise, a home with outdated or gold-colored door hardware may clash with a chrome kitchen. Consider updating the rest of your home to match your new kitchen. (Slowly, but surely?)
Countertops
Countertops can be a big decision for your kitchen. They work to tie the whole kitchen together in color and in style.
Choosing the right countertops
Like with cabinets, keep in mind the size of your kitchen when choosing countertops. A small kitchen may feel even small with dark countertops. Also, installing granite countertops in a large kitchen will cost much more than a cheaper countertop material.
Consider your family's lifestyle and needs when choosing a countertop style. Certain countertops are stain-resistant, while others stain easily. Likewise, some countertops are more hygienic compared to others.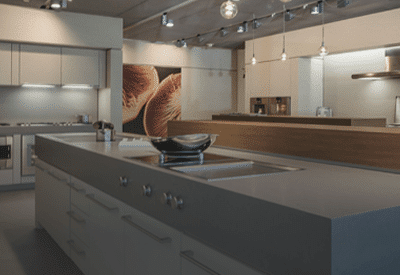 Do your research. Some countertop styles include:
Quartz
Stone
Corian
Butcher block
Meganite
Marble
Granite
Laminate
Finding someone to install your countertops
Installing countertop can be a hard job by yourself. Ask for help to ensure that your countertop is installed without any damage. Ask Atlantic Millwork & Cabinetry about our trusted contractors for installing kitchen countertops.
Flooring
Flooring is an afterthought for some projects. For others, it is the driving force behind the design decisions. Choosing flooring can be a challenge no matter which category your project falls into.
The first step is deciding which flooring will work best for your space and your family. Hardwood floors are in style right now, but in families with children or in high-traffic kitchens, the hardwood may be quickly damaged.
Knowing your family
We know that hardwood floors throughout your home may be your dream, but that may not be very reasonable. Hardwood floors are especially susceptible to water damage, so putting hardwood floors in a kitchen is not the best idea for families with young children.
Families with older children or couples with no children may be better candidates for hardwood flooring in the kitchen. Bear in mind, water damage can happen to anyone.
High traffic kitchens may also be poor candidates for hardwood flooring. Families that spend a lot of time in their kitchen may want to consider a more durable choice.
Choosing the right flooring for your kitchen
After considering your family and your habits, it's time to choose the right flooring. If hardwood flooring still sounds like an unbeatable option, you may consider a high-traffic and waterproof laminate alternative. 
Atlantic Millwork & Cabinetry now offers a hardwood floor alternative with all the benefits of a strong, waterproof flooring with a wood-looking finish. Our new vinyl flooring Vision Plank Flooring looks great and stands the test of time. Consider vinyl flooring for your kitchen, bathroom, or your entire home for a cohesive hardwood look without the worry.
If a higher price-tag isn't a concern, look-alike "hardwood" tile may work well for your home.
How to find a flooring installer
Ask Atlantic Millwork & Cabinetry for recommendations on reliable flooring contractors in your area. You may also consider asking your peers for suggestions on social media sites like Facebook.
Moulding and Trim
When remodeling the kitchen in an older home, moulding, trim, and millwork are a necessary addition. Moulding and trim add a finishing style that makes your home look more elegant and polished.  Consider purchasing moulding or trim to make your kitchen feel finished.
Choosing Moulding and trim
Choosing the right moulding and trim for your home can be a difficult task no matter how big or small your project is. Consider the size of the moulding you want. Large moulding will appear more elegant, while a simple trim will look perfect in a small kitchen.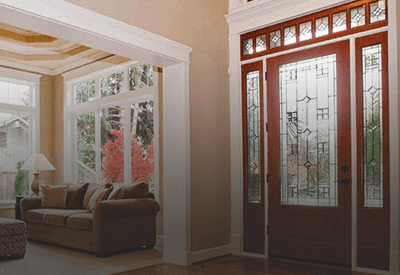 Ensure the moulding and trim you pick matches the style of your home. Farm style homes look better with simple trim styles while colonial homes may choose a more complex trim style.
Matching your existing trim
One of the hardest things about including trim in your project is matching the existing trim in your home. Atlantic Millwork & Cabinetry has you covered. Bring a sample of the trim you want to match, and we will do our best to find a manufacturer with a similar or matching trim pattern.
Can't find the exact match? Some carpenters will create custom trim for older homes. Atlantic Millwork & Cabinetry can recommend a carpenter to consult.
Lighting
Lighting can completely transform a kitchen. Learn more about choosing the perfect lighting for your home and new kitchen below.
Choosing lighting fixtures
When choosing lighting for your home, consider the size and style of your kitchen and your home. Large light fixtures can make a small kitchen feel smaller, while a small light fixture can make a large kitchen seem dark.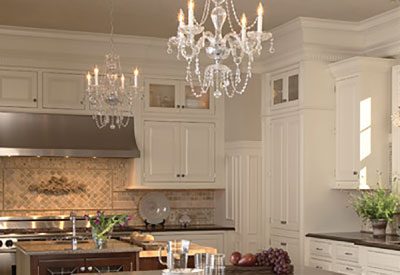 Farm style kitchens match with iron, bronze, and glass light fixtures while modern kitchens match well with chrome, steel, and some glass light fixtures.
Replacing light fixtures
After picking your new light fixtures, it's time to install them. The first step is removing the old light fixtures. Ensure the electric is turned off to the light and remove all lightbulbs from the fixture. Unscrew the light from the ceiling, but keep a solid grip on the lighting. Next, disconnect the wiring attaching the light to the ceiling hardware.
When the light is completely detached from the ceiling, place it carefully on a towel or blanket on the floor to avoid any broken pieces.
Next, attach the proper wiring to the new light fixture and screw the fixture to the ceiling. Screw the lightbulbs into the fixture and flip the switch. The light should come on. If it doesn't, you may need to unscrew the light from the ceiling and check the wiring.
Hiring an electrician
Replacing light fixtures can be dangerous. If you have any hesitations about replacing a light fixture in your home, especially older homes, hire an electrician. Atlantic Millwork & Cabinetry can recommend a local electrician for you to partner with, or you can consider crowdsourcing on social media.
The Cherry on Top
Some projects feel incomplete without the cherry on top to tie the kitchen design together. Some additions to consider are wallpaper and backsplash.
Removing Wallpaper
If adding wallpaper to your kitchen is part of your design, you may need to start with removing old wallpaper. To remove wallpaper, combine warm water, liquid detergent, and a handful of cellulose paste and spray generously onto the wallpaper. This will moisten the wallpaper and loosen the glue making scraping the wallpaper off easier.
Choosing backsplash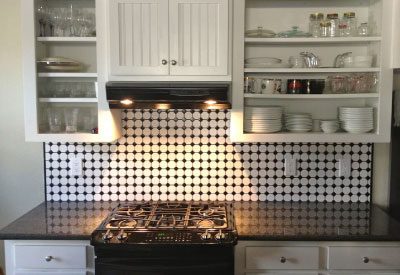 The backsplash is a final decorative item between your countertop and your cabinets. It will prevent food and water from damaging your walls.
To choose the right backsplash, again consider the size, style, and color of your kitchen. A plain kitchen may look good with a brighter and more decorative backsplash, while a festive kitchen may become overwhelming with a busy backsplash. Also, a small kitchen may feel smaller with a dark or busy backsplash.
Consider also the style and color of your countertops, flooring, and cabinets. Take samples of your colors and materials when picking your backsplash to see how the colors, styles, and textures will look together.
Keep in mind, tile is not your only option for a backsplash. You may also consider glass, aluminum, or stone.
Installing backsplash
When you have chosen the perfect backsplash for your new kitchen, it's time to install the backsplash. Installation may vary based on the material you chose for your backsplash. Aluminum backsplashes may require only some glue and a few screws, while glass, stone, and tile require grout and tile cement.
You'll need a level, tile spacers, and patience to complete this part of the process. You may also need a tile cutter to complete your backsplash depending on the style of backsplash you chose.
If installing a backsplash seems overwhelming, you may need to do more research or hire a contractor to complete this part of your kitchen remodel. The backsplash may take a few days to complete depending on the style of your kitchen and backsplash you chose.
Anything Else?
There are always add-ons you can choose for your kitchen that require additional work. If you have any questions about the process, don't hesitate to ask Atlantic Millwork & Cabinetry for help. We can recommend contractors or products for nearly any project including replacing windows, doors, stairs, railings, and more.
Know When to Hire a Professional Contractor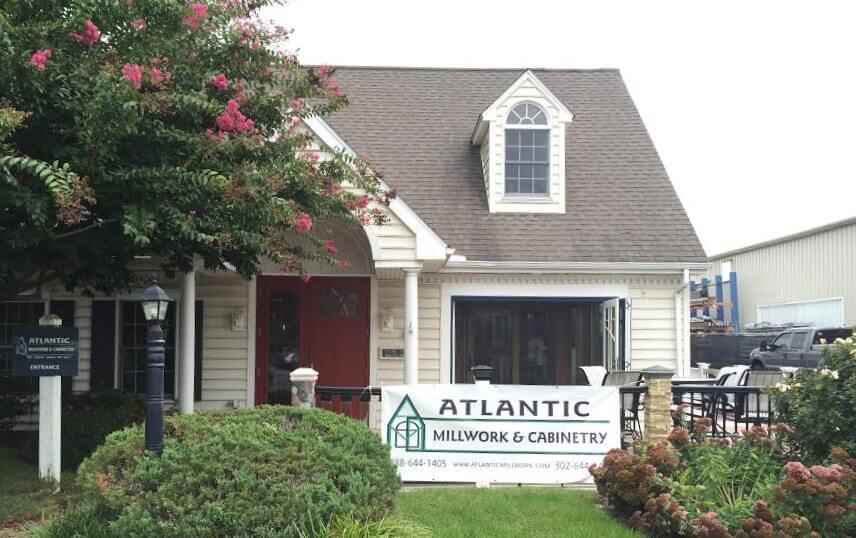 The most important piece of advice is to know when to hire a professional contractor. Some DIY projects can become incredibly expensive if you don't know what you are doing.
A contractor can help with the entire process to ensure the project is completed smoothly. We recommend hiring a contractor if your project will involve multiple parts especially replacing cabinets, replacing light fixtures, or moving appliances. Consult Atlantic Millwork & Cabinetry for recommendations on local contractors.
Tags: DIY, energy efficient windows, hardwood floors, kitchen renovation, new home, windows