Give Her A Bathroom Renovation She'll Love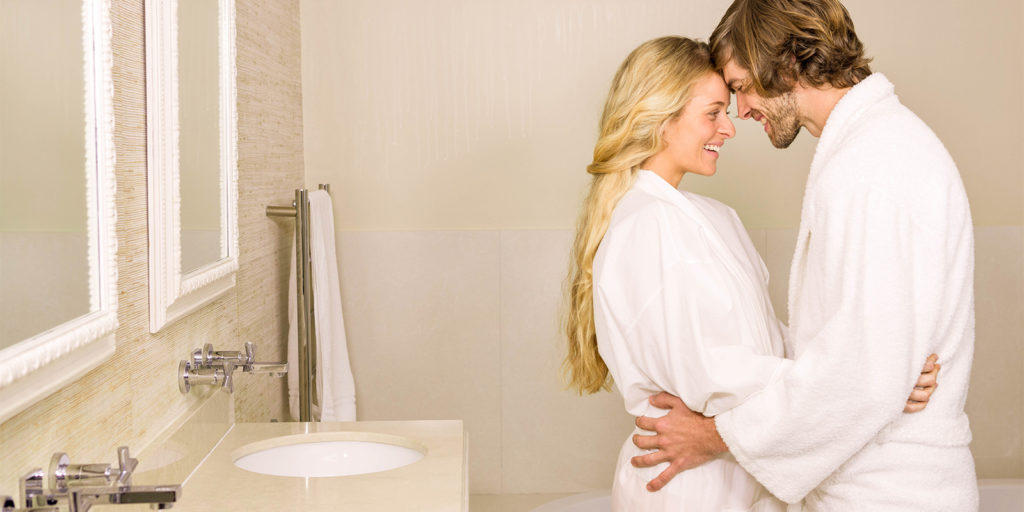 Are you still looking for that perfect Valentine's Day (or Anniversary) gift? Are flowers & chocolates not up to snuff for your special someone? Instead of getting her the same old gift, year after year, consider updating your bathrooms! I know what you're thinking, "What sort of gift is a bathroom renovation?" Let's be honest: #1. Bathrooms are one of the most frequented rooms in a home, and #2. Women love a handy-man.
Jumping in headfirst to any project can be stressful. Before you run out to start buying everything now, remember that the real gift is choosing the new look of your bathroom, together. Below are some of our recommendations for remodeling the perfect bathroom for your home. 
Getting Your Bathroom Renovation Started
Keep one thing in mind before starting your bathroom renovation… we advise against doing all of your bathrooms at once, especially if your home has a single restroom! 
When it comes to bathroom renovations, Atlantic Millwork and Cabinetry offers a unique role in the buying process. We carry a wide selection of products & have everything you need to make your project perfect. So, where exactly should you start on your bathroom renovation project?
Vanities
A vanity is the centerpiece of your entire bathroom, usually composed of a cabinet, a sink, and countertop. A vanity with a large, well-lit mirror is perfect for applying makeup, and functional cabinetry is essential for making sure you have plenty of space to store everything. Merely having the vanity replaced makes a HUGE difference in the look of your space.
Among a wide selection of both high-end and cost-effective options, Atlantic Millwork sells bathroom cabinets and countertops from household names like Timberlake cabinets and Cambria countertops. 
Hardware
A component that might not be on your mind is your bathroom's hardware. Hardware usually refers to the handles for all of the bathroom cabinets, drawers, and doors. While a smaller piece of the puzzle, these make incredible accents to your desired style. Atlantic Millworks carries a varied selection of bathroom hardware including:
Floors
Floors might be the most expensive option on this list, but they completely change the look of a room. There are a few considerations with bathroom flooring that have to be taken into account. We don't recommend a wood floor, as it soaks up moisture and can expand and buckle. It doesn't do well in bathrooms. Linoleum is also out. It's an incredibly thin material that is prone to warp and bubble over time. Instead, you might want to consider stone, tile, or even composite flooring. These are all built to last and withstand the high humidity conditions in your bathroom.
We recommend our rigid core or layered composite bathroom flooring. Layered composite is a vinyl material that is much thicker than linoleum and bound to last much longer. Rigid core is an upgrade to engineered vinyl, including a resilient core layer made of compressed mineral powders, making it a robust upgrade bound to withstand the climate and stress. Both flooring types come in a wide range of designs to look like just about any flooring type that you'd want. A good brand to start with is Elevations, known for its resilient waterproof floors.
Choose Atlantic Millwork For Your Bathroom Renovation
When looking for a unique Valentine's Day gift, don't get one that stresses you out! Atlantic Millwork and Cabinetry is there to guide you through the process of personalizing your space with the person you love. The experience you share is the most precious gift of all. Show someone you care this Valentine's Day, give them a gift that will continue to look beautiful for years to come.
Surprise your love with a trip to Atlantic Millwork's showroom in Lewes, DE, so that you can pick out the bathroom of your dreams together.