ML Jenkins Named General Manager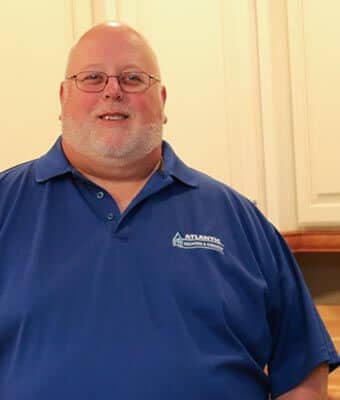 Mark Woodruff, President and CEO of Atlantic Millwork & Cabinetry and Richard Reed Co-Owner recently named M.L. Jenkins General Manager for the company, which sells and installs building supplies on Delmarva. The company has been in business for more than 25 years with a showroom and warehouse in Lewes, across from Nassau Valley Vineyards, between route 9 and route 1.
M.L. Jenkins a native of Milton graduated from Cape Henlopen High School in Lewes back in 1979. M.L. stayed in the local area working for various companies in the building supply industry. Prior to Atlantic Millwork & Cabinetry M.L.s experience ranges from building houses as a self-employed contractor, a ten-year career with Nanticoke Homes overseeing their Purchasing Department, and Kitchen and Cabinetry Design at Lowes in Lewes. This year, M.L. celebrates fifteenth years at Atlantic Millwork & Cabinetry.
Why We Chose M.L.
Mark said, "M.L. head of our Kitchen department has been with us for 15 years and has been promoted to General Manager. We were looking to promote from within the company.  M.L. was an easy choice, his tenure here he has allowed him to develop relationships with all of our employees and many of our customers. He knows our culture and has been a part of creating it.  He is dedicated, hardworking, knowledgeable, and has the personable characteristics we were looking for.  He is well respected by our employees and our customers.  He has been a leader here for a while we just gave him the title to go with it."
In his new role M.L. will oversee the general process of the company day in and day out including, customer service issues, hiring and firing, quality control, product management, and more.  When asked about his role with Atlantic Millwork & Cabinetry M.L. said, "He loves working for a family owned local small business where the employees are treated like family." Furthermore, he went on to say, "Atlantic Millwork & Cabinetry's ideals, values, and work culture are among the many attractive reasons to work for this company. I am looking forward to implementing process and training that will help our staff become experts in their fields and give them the tools they need to increase sales with great customer service."  
For more information on Atlantic Millwork & Cabinetry, visit www.atlanticmillwork.com or follow them on Facebook, Twitter, Houzz, or Instagram.  
Tags: 25 years, Green Business Bureau, history