Steady Adoption of Sustainable Business Practice
Green Business Bureau
Lewes, DE – By committing to going green, Atlantic Millwork & Cabinetry is focused on future growth that will make the building materials supplier and distributor more competitive in the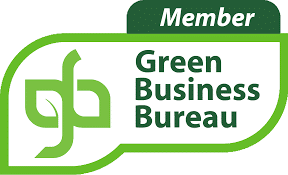 residential and commercial housing and building materials marketplace. The company strongly believes sustainability takes into account how we might live in harmony with the natural world around us, protecting it from damage and destruction. Having been an environmentally conscious company since they opened their doors in 1991, Atlantic Millwork & Cabinetry has taken major steps towards increasing commitment to being green and recently joined the Green Business Bureau (GBB), which is a national membership organization that uses an online assessment to certify green businesses. 
With the aid of a grant from the Rural Energy for America Program that covered 25% of the cost, Atlantic Millwork & Cabinetry commissioned The CNC Solar Company to install a 143 kW DC system on the southern facing upper roof of their warehouse. The 550 panels system has taken the company nearly off the grid and provides nearly 95% of the electricity it takes to operate their offices and warehouse.
In addition to installing solar panels on the roof of their warehouse, Atlantic Millwork & Cabinetry has reinforced their sustainable business values by recycling all paper and cardboard products, donating surplus products such as windows, doors, decking to Habitat for Humanity, and even re-selling/recycling printer toner cartridges whenever possible. Their break rooms and bathrooms now also use 100% recycled toilet paper and paper towel products.
In keeping with their sustainable business vision, Atlantic Millwork & Cabinetry plans to use the GBB online assessment tool to provide suggestions of products and practices they can implement to make the company more eco-friendly. They intend to continually focus on implementing green practices throughout their office building, warehouse, and associated facilities. The company embodies the goal to be the most environmentally responsible and ethically engaged SME (small-to-medium enterprise) in the industry. 
For more information on Atlantic Millwork & Cabinetry, please visit http://www.atlanticmillwork.com/
For more information on the GBB program, please visit http://www.gbb.org