South Bethany house wins national architectural award
Read the original article on Delmarvanow.com.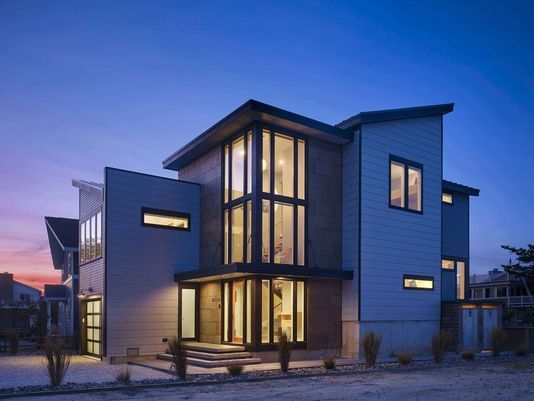 (Photo: Scott Edmonston Submitted Image)
A house in South Bethany and its architect and builder have won a 2017 Integrity Windows and Doors Red Diamond Achiever Award award for their work on the house in the annual competition.
Architect Scott Edmonston of SEA Studio Architects and Shay Gallo of Shay Gallo Construction Inc. won the award for their work with the Integrity windows and doors from Marvin.
"I think Integrity likes modern architecture," Edmonston said. "So they wanted to recognize some houses like this one that had a little different take on architecture."
This is Edmonston's second time winning the award and Gallo's first.
The house they won the award for is a 2,200-square-foot, modern-style home with four bedrooms and three-and-half bathrooms that borders the canals in South Bethany.
The house cost $300 per square foot to build, Gallo said.
It features a tower on the front of the house, a porch with a garage door-esque entrance to it and windows overlooking the South Bethany canal.
"It's amazing," said David Ethridge, owner of the home. "We are so relaxed when we walk in there, and we have a relatively long drive from New Jersey, and I can feel my blood pressure dropping 60 miles out. When I walk in the door I feel like we're on vacation."
Working with Ethridge and his family was great, Edmonstron said, and allowed them to "have fun with it."
Edmonston said the Ethridges wanted a modern, fun beach house that would be different than their traditional brick house in New Jersey, so they went out and tried to do something that would stand out.
"They were very open minded and willing to think outside the box," Gallo said.
The Ethridges were at the house during weekends in the summer and will go back during the holidays because the family enjoyed the property so much.
Every space of the house was used to ensure it feels as big as possible, including building closet space into the walls of the house rather than having separate rooms.
"We have enough heating and lighting for a 5,000-square-foot house, but we have a 2,200-square-foot house," Edmonston said. "We wanted to make some of these spaces feel big even though they were in a compact space."
The architect and builder, too, wanted the house to be as energy efficient as possible and to reduce the house's footprint.
They used bamboo for cabinets and concrete for the flooring in the first floor to trap heat during the day that would be released at night, as well as using cork on the side outside the house.
The deck on the outside of the house also uses Brazilian walnut, which Gallo said is typically burned in Brazil when fields are being cleared rather than used in houses.
"The house on the energy side is small for a reason," Edmonston said. "It faces south so that we collect natural light so you don't have to be in here with the lights on even during an overcast day, and we have heated floors in here so that you get this nice radiant heat without wasting a lot of energy, and then we use some really energy-efficient windows."
There were some challenges the crew faced when they started on the house, such as details with how the wall sits flush with the trim on the floor boards.
There are also no square angles on the house, as the property is on a parallelogram, which Edmonston said presented a unique challenge for both himself and Gallo.
But Gallo said he enjoyed working with a challenge.
"Generally, it was just a fun project and we did a lot of fun with some things. The homeowners were open minded to new ideas and things you don't see every day," he said. "It went well."
On Twitter @hughesg19
Tags: Bethany Beach, Delmarva, energy efficient windows, Marvin, Marvin Integrity, new home, new windows, weather proof, windows